Regenerative medicine
Regenerative medicine performed in our clinic includes "stem cell therapy" and "stem cell culture supernatant therapy".
Stem cells which are known for regenerative therapy, require that the cells of our body continue to be replace as we liver, among the cells that make up the body while continuing to replace, there are cells that have the ability to regenerate and supplement lost cells.
"Stem cells" are the cells that have these abilities.
The following two abilities are essential to be called stem cells. The first is the ability to create various cells that make up our body, such as skin, red blood cells, and platelets (differentiation ability), the other is the ability to divide cells into cells that have exactly the same ability as themselves (self-renewal ability).
2types of stem cells
Stem cells are roughly divided into two types.
Tissue stem cells
One is stem cells that continue to make the replacement for disappeared cells in fixed tissues and organs like skin and blood. This type of stem cell is called a "tissue stem cell". Tissue stem cells cannot be anything, and hematopoietic stem cells that make blood are cells of the blood system, and neural stem cells that make the nervous system are only cells of the nervous system.
Pluripotent stem cells
The other is "pluripotent stem cells" such as ES cells (embryonic stem cells) that can produce any cells in our body. That is, pluripotent stem cells can also produce various tissue stem cells in our body. The iPS cells known by "professor Shinya Yamanaka who succeeded in producing iPS cells for the first time in the world" are "pluripotent stem cells" artificially create from ordinary cells.
Utilizing these properties of "stem cells", using a new treatment method called "regenerative medicine" that cures injury and disease by using cells themselves as drugs, stem cells returned to the body by an incubator circulate throughout the body, and by the action called homing, they gather in damaged organs, new blood vessels, soothing inflammation, accelerated nerve formation, etc., responsible for restoration of tissue function and repair of defective parts. Therefore, the treatment using stem cells is highly expected as a promising treatment for intractable diseases.
Regenerative therapy
There are two types of regenerative treatment.
Treatment with stem cells has certain characteristics.
Administered stem cells are capable of altering damaged tissues and cells as needed to restore their function. Then, the substance secreted form stem cells having the ability to replace various cells and the ability to repair tissue, paracrine effect, can be exerted on the tissues surrounding the cells.
In short, in the case of regenerative therapy by stem cell transplant, not the differentiated proliferation of the administered multi-cell itself, the effect of improving indirectly damaged tissues through cytokines and growth factors produced by the cells can also be expected as a treatment.
Taking advantage of this feature, regenerative treatment by administration of stem cells and regenerative treatment by substances secreted by stem cells can be performed.
Stem cell culture supernatant
There are hundreds of types of growth factors, signaling agents called cytokines, and anti-inflammatory factors in the culture medium used in the process of culturing and proliferating stem cells isolated from dental pulp, fat, cord blood, and cone marrow.
The use of this culture solution for treatment is called stem cell culture supernatant therapy or cytokine therapy.
The stem cell culture supernatant used by our clinic is mainly derived from dental pulp, but depending on the purpose of use, we will use the one that seems to be the most appropriate according to the symptoms, such as umbilical cord-derived or fat-derived.
By IV and locally administering the stem cell culture supernatant liquid to the necessary areas such as the face and scalp, alone or in combination with transdermal introduction by MESONA-J, the rejuvenation of cells at the necessary area can be efficiently provided in the form of regenerative medicine.
Recommended for the following problems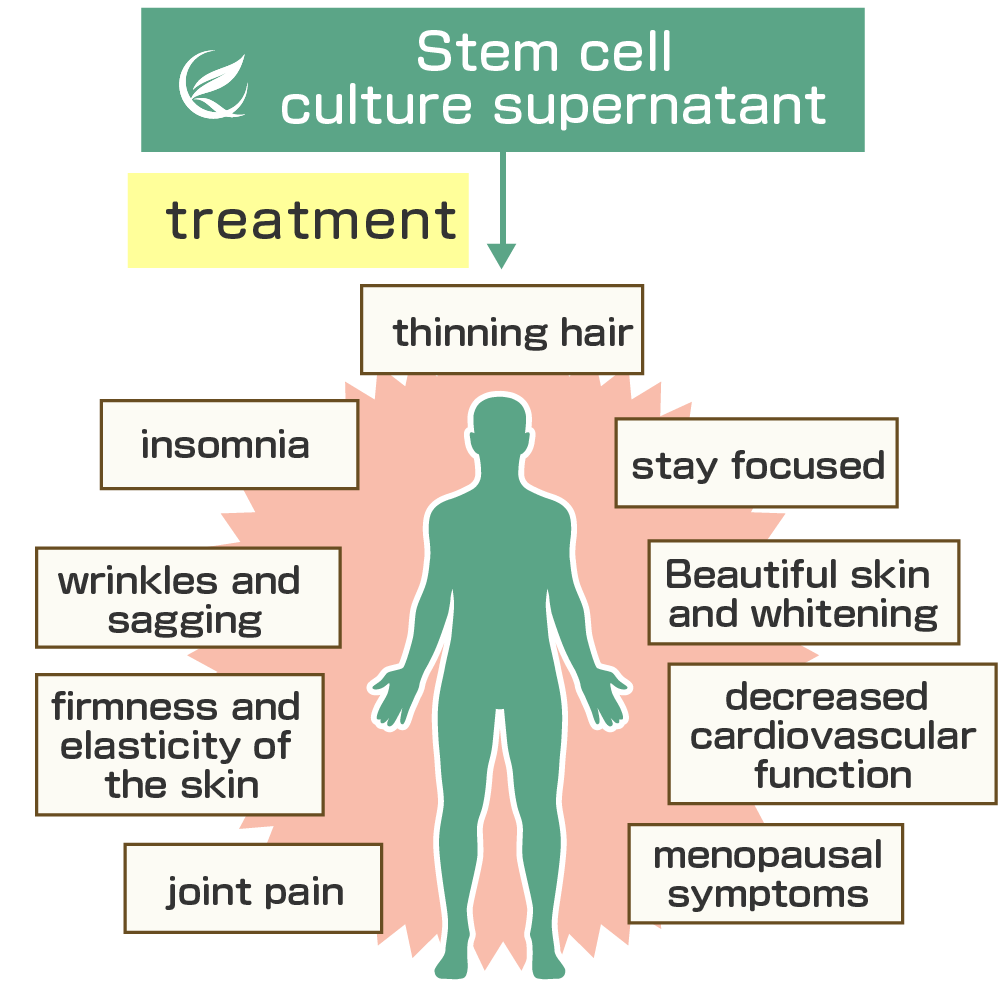 Those who want to recover the firmness and elasticity of the skin of the face and neck
Those who want to have beautiful skin and whitening
Those who worried about wrinkles and sagging
Those who are concerned about thinning hair
Those who suffering from menopausal symptoms
Those who want to manage joint pain
Those who want to improve atopic dermatitis, etc.
Those who feel functional decline with age
Those who get frustrated easily
Those who do not stay focused
Those who cannot get enough sleep such as insomnia
Those who want to improve the side effects of long-term drug use
This clinic is by appointment only.
For counseling and consultation, please make a reservation in advance using the form. Reservation for counseling For information
TEL. 03-5542-1177
Telephone reception hours : 10:00〜18:00
Closed day: Thursday, Sunday, Public holidays