Stem cell therapy
A sick or injured body cannot be cured by drugs or doctors, but by its own cells.
Medicines and doctors only invite healing.
Khloe Clinic Aoyama is conducting regenerative medicine using fat stem cells.
What is stem cell ?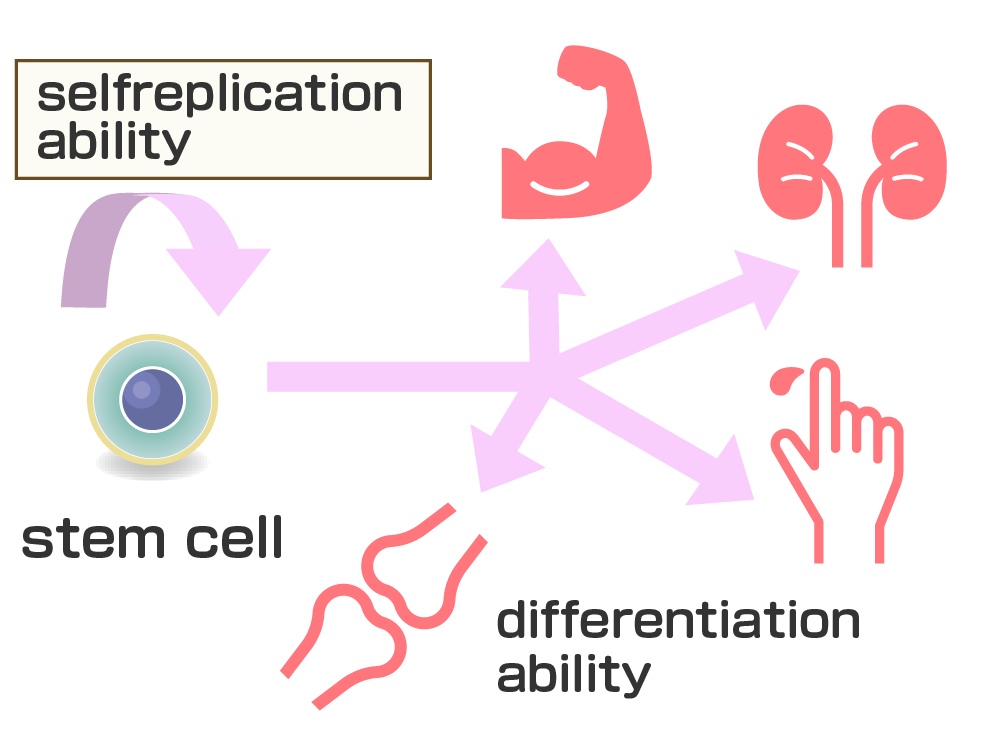 The mesenchymal stem cells present in the body such as bone marrow, fat tissue,etc. are cells with limited but pluripotent potential to become cells required for tissue repair. The number of stem cells that repair and regenerate the body decrease with age. When the number of stem cells decreases, tissue repair cannot be done in time and it appears as an aging phenomenon. By supplementing these reduced stem cells from the outside, the purpose is to repair damaged areas, abnormal areas, and aging areas to self-repair the entire body.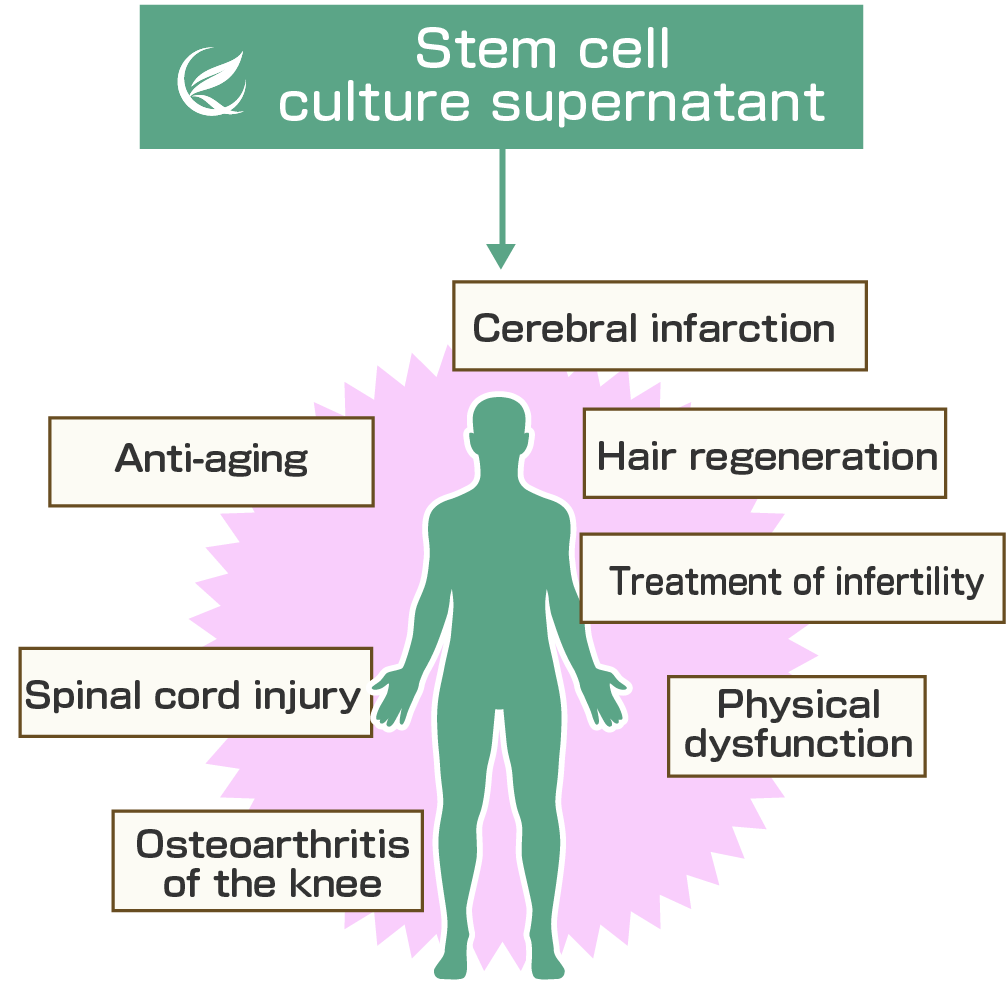 It has recently been noted that stem cells have functions that lead to various therapies such as regulation of the immune system, angiogenesis, antiinflammatory action, antioxidant action, tissue repair, etc.
Fat stem cells have two major characteristics, "differentiation ability" and "selfreplication ability". As a somatic stem cells with the same characteristics, there are dental pulp, cord blood, placenta, bone marrow, and in particular, fat stem cells can be collected in large amounts because it is easy to collect, so we also extract stem cells from fat in this clinic.
Autologous fat-derived mesenchymal stem cells once removed from the body and cultured become active in growth factor secretion. When it is returned to the body, it differentiates into bone cells, chondrocytes, fibroblasts, skeletal muscle cells, adipocytes, etc. In addition, secreted growth factors have positive effects calls paracrine effect and endocrine effect, on the growth of other cells, in the surrounding tissues.
Khloe Clinic Aoyama has acquired
the "Type 2 Regenerative Medicine Provision Plan Number"
Regarding regenerative medicine such as stem cells, the adequacy, safety, doctor system, cell processing control system, etc. of the treatment will be examined by a specified certified regenerative medicine committee approved by the Ministry of Health, Labor and Welfare. If it is deemed appropriate by the specified certified regenerative medicine committee, it is possible to submit a regenerative treatment plan to the Ministry of Health, Labor and Welfare and provide treatment.
Khloe Clinic Aoyama is a medical facility that has taken the formal process and submitted Type 2 Regenerative Medicine Provision plan to the Ministry of Health, Labor and Welfare and obtained a plan number.
| | |
| --- | --- |
| Type 2 (plan number PB3190063) | "Treatment with autologous fat-derived stem cells for chronic pain" |
| Type 2 (plan number PB3190045) | "Treatment with autologous fat-derived stem cells for age-related changes in skin such as age spots and sagging" |
| Type 2 (plan number PB3190046) | "Treatment with autologous fat-derived stem cells for the main symptoms of patients with atopic dermatitis" |
Chronic headache and regenerative medicine
While pain that suddenly becomes painful and subsides in a short period of time is called acute pain, and pain that occurs over a long period of time is called chronic pain.
Chronic pain is caused by long-lasting changes due to diseases such as cancer, rheumatoid arthritis, and herniated discs, and damage to the nervous system. This often causes persistent pain even without noxious stimuli or acute pain associated with trauma.
The categories of chronic pain are as follows, and mainly target the diseases 1~4 below.
Nociceptive pain, where noxious stimuli continue to be applied for a long period of time.
Neuropathic pain lasting long after initial neuropathies disappear
Mixed chronic pain with a mixture of nociceptive and neuropathic pain
Spontaneous chronic pain in which there is a tissue lesion causing pain
Psychogenic pain
Regenerative treatment for chronic headache is a treatment method to improve pain by the autologous stem cells that the damaged nerve cells collected from the fat of their own and, repair damaged tissue, utilizing that it has the function of secreting anti-inflammatory factor that suppresses inflammation that causes pain.
Maxillofacial area headache
Orofacial pain mainly refers to pain in the trigeminal nerve area, and there are various conditions.
Persistent headaches, headaches where drugs do not work, facial neuralgia,tongue pain, etc.
Trigeminal neuralgia is a recurrent, unilateral short-term blitz that causes sudden onset of pain.
Confined to the area of control of the trigeminal branch, usually triggered by slight cues such as face washing, shaving, smoking, talking, or brushing teeth, however may occur spontaneously.
Targeting autologous stem cell therapy for chronic trigeminal pain.
Wrinkles ・ sagging
The firmness of the skin is maintained by collagen fibers of the dermis layer under the epidermis, and elasticity is maintained by elastic fiber. Collagen fibers, which occupy most of the dermal layer, become thick and dense in the lower layer. On the other hand, because the epidermis is thin and has no elasticity, when tissues such as collagen fibers of the dermis are deformed, the epidermis also becomes uneven. This becomes a wrinkle.
Sagging is a phenomenon in which collagen fibers that keep the skin firm are destroyed by damage such as ultraviolet rays, and it becomes difficult for new collagen fibers to be made with age. Compared to when you were younger, your ability to produce skin cells accurately declined. As a result, the skin itself becomes fragile, and the skin cannot support tissues such as fat and loses gravity and sags.
Wrinkles and sagging are caused by damage caused by dryness, aging, and ultraviolet rays, and a major cause is cell damage due to active oxygen due to lipid peroxide generated by stress etc.
There are three major causes of "sagging"
Reduced skin elasticity
Decreased metabolic function
Muscle weakness
When elastin which is the main component of collagen and elastic fibers that support the skin's elasticity decreases, loses elasticity.
When metabolic function declines, subcutaneous fat becomes thicker and easily falls due to the influence of gravity.
Also, when facial muscle strength weakens, it becomes impossible to support the skin and subcutaneous fat.
Treatment of "wrinkles" and "sagging" in our clinic
Improvement by MESONA-J
MESONA-J can safely and securely introduce effective ingredients according to skin symptoms such as spots, wrinkles, acne, melasma, whitening, reddish face, tension, moisturizing, and improving skin quality, without pain and without damaging the skin.
Improvement by stem cell therapy
This treatment method injects subcutaneously or intradermally on the face the patient's own stem cells after culturing the required number of fat-derived stem cells extracted from the patient's own abdominal and let fat to improve facial aging symptoms such as wrinkles and sagging.
This is a skin regenerative medicine in which aged cells slowly cleanse the skin by the action of injected stem cells.
Stem cell therapy is a fundamental treatment that can restore skin function weakened by aging, etc. and decrease of collagen fibers and decreased skin cell function that cause aging such as wrinkles and sagging, by transplanting stem cells cultured and expanded with high regenerative capacity. For that reason, stem cells injected into the skin change over time to cells that aim to improve the skin condition and wrinkles, gradually recover their function, and improve wrinkles and sagging.
Also, if you re-inject regularly, you can feel a better effect.
Atopic dermatitis
Atopic dermatitis is a disease associated with skin inflammation that is often seen in people who are already prone to allergies, who have sensitive skin characteristics, and who have a weak skin barrier function. It is thought that various environmental factors such as invasion of allergens (tick, dust, food, etc) and stress overlap. The main symptoms are "eczema" and "itch", which improve and worse repeatedly and this disease does not heal easily.
Atopic dermatitis is an inflammatory disease, as indicated by the word "flame", that occurs mainly in the skin.
Many patients with allergic disease have reduced mucosal immunity. The causes are found to be a decrease in intestinal immunity, deterioration of intestinal environment, deficiency of nutrients that control mucosal immunity, accumulation of heavy metals, and impaired excretion.
At our clinic, in addition to checking and supplementing nutrients that control mucosal immunity such as vitamins and minerals by detailed blood test, performing treatments that combine improvement of intestinal environment, drip therapy, dietary guidance, as oral condition reflects general condition, oral environment improvement, etc.
Also, taking advantage of the function of autologous fat-derived stem cells to secrete immunosuppressive factors and anti-inflammatory factors, we are implementing therapeutic methods to improve disease.
This treatment is intended for patients with atopic dermatitis, collecting and culturing only stem cells extracted from the patient's own fat, and returning the stem cells to the body by IV infusion.
Treatment flow
Reservation

Our clinic must be fully booked. Please call 03-5542-1177 and make a reservation from counselling reservation form.

Interview (Counselling)・Preoperative blood sampling

Doctors listen to the patient's symptoms, purpose, and hopes and explain the characteristics, expected effects, and risks of stem cell regenerative therapy
Develop the optimal treatment plan (Number of doses, method, times) for the patient's condition
Have a blood test, tumor market, and allergy test before surgery
Please bring if you have inspection data from another hospital

Fat collection

Make an incision of about 5mm on the skin in the navel and collect about 10mg (1~2 rice grain) of fat and blood necessary for culture.
Almost no postoperative pain and no visible scratches
Please refrain from bathing and excessive exercise on the day

Culture

Immediately after collection, fat tissue is transported to a contracted partner culture facility under strict temperature control.
After arrival, immediately a dedicated incubator cultivates the fat-derived stem cells for about 3~4 weeks in a sterile cell culture processing room and grows to the number of cells required for treatment.
Work closely with affiliated facilities and receive reports on culture status one after another.
There are individual differences in the time required to culture up to the number of stem cells required for treatment
If abnormalities are observed in the culture process, fat collection or culture may be stopped

Note

About 2 weeks after the start of culture, the final culture completion time will be determined.
At this point, discuss and determine treatment (administration) date with patient
*As a general rule, in order to enhance the therapeutic effect and reduce the risk, the determined administration date cannot be changed.

Administration (Treatment)

For local injection therapy or drip therapy, give stem cell administration.
If the next administration is scheduled, collect the blood necessary for the next culture
Local injection may cause some swelling and internal bleeding after surgery.

Post-operative monitoring

Visit our clinic one week after treatment to check for symptoms.
After that, one month later, three months later, visit our clinic for follow-up observation.

Preparation for next administration

Preparation for next administration
If multiple doses are to be administered, start expansion of stem cells that had been cryopreserved in the facility on primary culture at the time of initial collection.
This clinic is by appointment only.
For counseling and consultation, please make a reservation in advance using the form. Reservation for counseling For information
TEL. 03-5542-1177
Telephone reception hours : 10:00〜18:00
Closed day: Thursday, Sunday, Public holidays